The Second Year (TOU)
Towards the end of July 2004, I called up PG&E customer service and asked to switch to the E-7 Time-of-Use schedule. The lady on the phone offered to send me a rate comparison to see if changing billing rate schedules would save us money. I was surprised. I didn't think they'd have the data to be able to send me such a comparison, but I said, "Sure!". While trying to send that out to me, she realized she couldn't, and that I had to call the Business Customer Center, whose number is on the multipage 8.5"x11" bills I get once a month right after the smaller residential bill arrives.
So I called up the Business Customer Center and they said I needed to fill out a new form and send a check for $277, and no they couldn't send me a rate comparison. The form arrived in the mail the very next day! I sent in the form, which came back the next week with their signatures on it.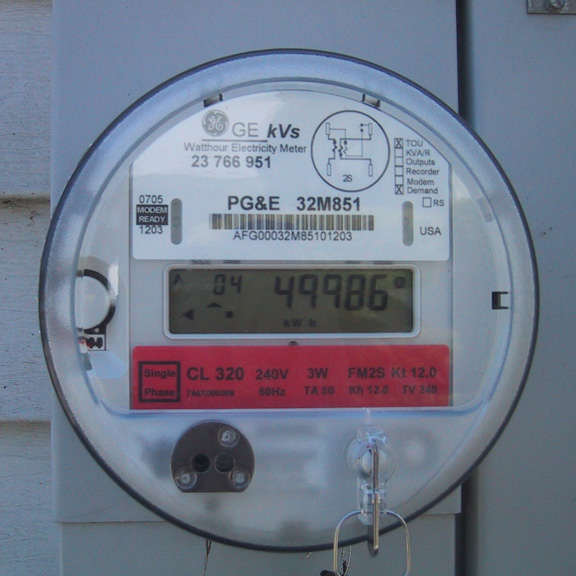 I wondered what was next? Would they call to schedule a day to switch the meter? No, they just showed up one morning, 10:40am, Tuesday, August 3rd. I suppose they would have knocked on the door first before switching the meter, but Scanner happened to be walking out the door just that minute. We shut down as much as we could in the house (other than phantom loads and such), turned off the solar system, and they swapped out the meter. It was nice to see after just 4 hours that we had already sold 14 KWH of power to PG&E. (50000 on the meter is what we'd normally think of as 0.)
A couple of days later the bill detailing the $277 showed up. $152.96 was for the meter, CIAC tax on that was $52.01, which comes out to 34%. Wow! "CIAC" seems to stand for "Contribution in Aid to Construction" and is some kind of Federal tax. The remaining $72.03 was for installation costs. Since I expect that the E-7 schedule will save us about $500/year more than the E-8, the $277 should pay for itself in about 7 months.
Another thing we've noticed, is that spraying the solar panels with water is not enough to clean them after months of no rain. We've been using a squeegee to help clean the panels we can reach from a ladder.
The first E-7 TOU bill showed up. I noticed that the surcharge rates dropped for usage above 130% of baseline. This is one of those gifthorses not to look in the mouth. The good news is slightly lower bills, the bad news is that it makes the financials of the PV look less attractive. Adding the effects of the lower surcharge rate and us going to the E-7 schedule, I think we come out ahead. (The lower surcharge rates has something to do with the politics involved with PG&E getting approval to get out of bankruptcy. Someone demanded that the ratepayers get something out of the deal.)
We had the meter swapped out half way between two regularly scheduled meter readings. For the last two weeks on the E-8 schedule we had a "current unbilled charge" of $30.97. For the first two weeks on the E-7 schedule we had a "current unbilled credit" of $20.15. We saved $43.50 with the E-7 vs the E-8 in those two weeks alone. It's always nice to see a credit.
The Third and Fourth Years (Games with Baselines and Surcharges)
Surcharges started going up again in June 2005 and then October. In January 2006 it rose above the June 2001 surcharge rates and in March they went even higher. Now on the E-7 TOU schedule, in the summer during peak hours, the highest tier rate is 50.5 cents/KWH.
I have mixed feelings about this. On one hand our electric bill is going up, and on the other hand, that means the solar panels are paying for themselves faster. While this was expected, I had chosen not to depend on it for my payback calculations.
Hidden among all these changes in surcharges, they added in a change in calculation method that I don't have mixed feelings about. They are definitely adding to my bill and reducing my savings by artificially lowering my baseline quantities and thus increasing my surcharges. Details at When Net Metering is Not Truly Net Metering.
I sent a formal complaint letter to PG&E with my calculations of just how much I believe they overcharged me and how much they decreased my Total Baseline Quantity. If they say that the CPUC approved the changes, I want it in writing. I haven't found anyone else who says the same thing has happened to them, but I suspect that it's not because I'm the only one. I think it's because the 16 page bills are difficult to verify. I take http://debris.com/journal/1453 as evidence that it's happened to this solar blogger. A $400+ error was caused by one meter misreading followed by a correct reading. There wouldn't be such a huge error if it were truly net metering.
PG&E sent me a letter acknowledging that they received my complaint. A month later, I still hadn't heard from the CPUC.
As of May, customers can no longer switch to the E-7 schedule, but those of us already on it, can stay on it. Instead they have reopened the E-8 Seasonal schedule and opened an E-6 Time-of-Use schedule that has peak hours, partial peak hours and off-peak hours. I did some calculations and found that the E-6 schedule would cost us more than the E-7 schedule.
Two months after I sent in the letter complaining about the changes in billing calculations, I got a phone call from the PG&E executive office. They apologized for the delay. I was pleased to hear that I was not the only customer to complain and that PG&E's tariff department agreed with me that the billing is incorrect. Since they are a regulated utility, they have to file a petition with the CPUC to change the billing calculations and the CPUC has to approve it. Then PG&E will go through the billing records back to October 2005, look at all the customers and credit the accounts accordingly. This should happen by the end of the year.
Meanwhile, I was promised a letter in writing explaining what happened. The verbal explanation didn't make much sense to me. Yes, I understand that the new calculation method works fine for most people, and is only a problem for those of us who generate power and send that power back into the grid from time to time, but that does not explain why a perfectly good calculation method before October 2005 was changed at all.
For our July 19 to August 16 bill, I noticed that the baseline calculations have reverted back to the old correct way. This is different from the change that PG&E said they'd do in the letter they sent me.
Per our conversation today, PG&E is in the process of filling (sic) with the CPUC to "requests authority to revise Special Condition 2 entitled 'Net Energy Metering and Billing' to address baseline allocation where a net energy metering (NEM) customer's net usage for all time-of-use periods totals zero (i.e. when net generation in one or more periouds exactly offsets the net usage in all other periods), then the value of usage and/or generation will be calculated using Tier 1 rates (as set forth in the otherwise applicable rate schedule.)
Considering that there were positive and negative usage values in my bill for Tiers 2, 3 and 4, this does not appear to be the result of the new filing.